Sonoma County COVID-19 Resources
Website: www.socoemergency.org
Questions or concerns can be directed to Sonoma County 211 by calling 2-1-1 or texting your zip code to 898-211 to talk/text with a call taker 24/7. You can also text "COVID19" to 211211 for pre-recorded information and resources.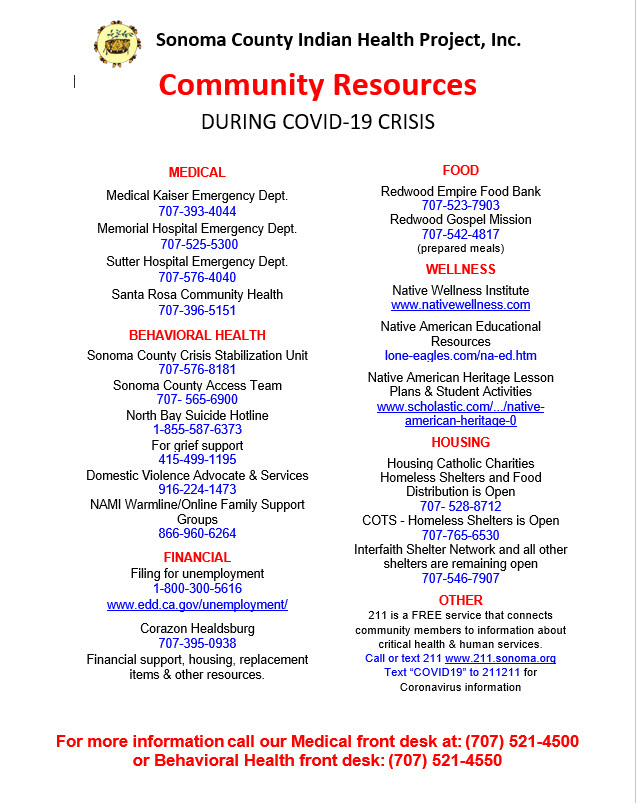 For a PDF version, please click here SCIHP COVID-19 Resources
Redwood Empire Food Bank: Emergency Groceries and School Meals
Redwood Empire Food Bank
Food Finder in Sonoma County
https://getfood.refb.org/?autocomplete=Sonoma+County%2C+CA%2C+USA&zip=
Emergency Food Boxes
Boxes of emergency food at 3990 Brickway Blvd., Santa Rosa, CA 95403. Please call Food Connections at (707) 523-7903 if you need help finding resources.
Senior Basket Program
Seniors qualify for our Senior Basket program, which offers a 35-40 lb. box of staple food items and a variety of fresh produce once a month. We have 83 distribution sites throughout our service region. To sign up, contact Food Connections (at (707) 523-7903 | info@refb.org) to learn where you can pick up the monthly food box. You will be able to apply on site by providing your ID and self certifying your income.
Emergency School Distributions
https://www.google.com/maps/d/u/0/viewer?mid=12sGarVKPhpZMJsoQNhED65mJilzG6245&ll=38.51774044915153%2C-122.9129044&z=10
Families with children ages 0-18 can pick up lunch from any of the schools, even if the child doesn't attend that school. Care packages of groceries will also be available at some locations.
CPI Diaper Project
Fill out this form to apply for diapers and wipes from CPI.
Food Connections Market at the Redwood Empire Food Bank
3990 Brickway Boulevard, Santa Rosa, CA 95403
Phone: (707) 595-6500
Fax: (707) 523-7901
https://refb.org/our-work/programs/get-food/calfresh/
CalFresh
Food Connections at the Redwood Empire Food Bank can help you with the CalFresh application process. Please call ahead at (707) 523-7903. Fill out the inquiry form and a staff member will contact you.
https://refb.org/our-work/programs/get-food/calfresh/
The County of Sonoma Economic Assistance office is currently closed. They are providing essential services, including emergency services for child welfare, adult protective services, IHSS, CalWORKs, Medi-Cal, CalFresh, and General Assistance. Please email info@schsd.org or call 707-565-5800.
C4Yourself®
Apply for Cash Assistance, CalFresh and Medical programs!  C4Yourself ® is an online application system that allows you to apply for benefits.  This is a secured site and all your information will be private and safe.
https://www.c4yourself.com/c4yourself/index.jsp
Halter Evacuation/Pre-Evacuation Resources
https://www.halterproject.org/preparedness-resources
Legal Services of Northern California
https://lsnc.net/coronavirus-covid-19
https://lsnc.net/how-contact-us
FindHelp
Find food assistance, help paying bills, and other free or reduced cost programs, including new programs for the COVID-19 pandemic
Food Finder
One Degree COVID-19 (Coronavirus) Resource Guide Sonoma County


https://about.1degree.org/covid-19-sf-en#sonoma
COVID-19 in California
Cloverdale Rancheria of Pomo Indians
Phone: (707) 894-5775
Fax: (707) 894-5727
https://www.cloverdalerancheria.com/listening.php
The Kashia Band of Pomo Indians of the Stewarts Point Rancheria
Phone: (707) 591-0580
Fax: (707) 591-0583
tribalofc@stewartspointrancheria.com
Graton Rancheria
Effective March 18, 2020, through April 30, 2020, or until further notice. The office is tentatively scheduled to reopen May 1, 2020, at 8:00 am. Feel free to send email communication to info@gratonrancheria.com or leave a voice mail message at 707.566.2288.
Sonoma County Indian Health Project
https://www.scihp.org/wp-content/uploads/2020/04/COVID_Resources-.pdf
For more information call our Medical front desk at:(707) 521-4500 or Behavioral Health front desk:(707) 521-4550
Statewide Directory of Services for Native American Families
https://www.courts.ca.gov/5807.htm
California Indian tribal, health, legal, artistic, cultural, linguistic and media resources
https://newsfromnativecalifornia.com/resources/
City of Sonoma
https://www.sonomacity.org/coronavirus-resources/
California Indian Legal Services' (CILS) 
https://www.calindian.org/our-offices/
Free Legal Services and Client Eligibility:
Individuals:  CILS can provide free legal services if the person qualifies as "low income" (is at or below the federal poverty level) and has a legal issue or question of federal Indian law.  *For individuals in our Escondido office, there is no low-income requirement for assistance for Native American victim of domestic violence and stalking.
Tribes, Tribal Organizations, and Entities:  CILS can provide free legal services if the tribe, tribal organization or entity qualifies as "low income." The tribe, tribal organization or entity must demonstrate and certify that they do not have unrestricted funds to retain private legal counsel and that 51% of their members are at or below the poverty level. The tribe's, tribal organization's or entity's legal issue must involve a question of federal Indian law.
Dry Creek Rancheria Band of Pomo Indians
https://drycreekrancheria.com/news/
Westwater Financial Inc.
https://westwaterfinancial.org/
Directory of Indigenious Mutual Aid Groups
https://www.indigenousmutualaid.org/directory/
Sonoma County Emergency and Preparedness Information
Sonoma County Warm Line
Call (707) 565-2652 for free and private support if you or someone you know is experiencing emotional stress and anxiety during the COVID-19 pandemic. This warm line is available 7 days a week from 10:00 a.m. to 7:00 p.m. Telephone interpretation is available for other languages.
Sonoma Family Meal
https://www.sonomafamilymeal.org/
211 Sonoma
Housing 
County of Sonoma, "COVID-19 Eviction Defense Ordinance"
"On March 24, 2020, the Board of Supervisors took action to approve the COVID-19 Eviction Defense Ordinance, effective immediately and for the duration of the declared Local Emergency in Sonoma County.
This ordinance creates a legal defense for tenants who live anywhere in Sonoma County and  are being evicted due to non-payment of rent and who can demonstrate financial losses due to lost work or medical expenses resulting from the coronavirus pandemic.
The ordinance requires that tenants who use this defense share that information with their landlord to support claims for any prospective mortgage relief.
The Ordinance will continue for 60 days after the end of the emergency. Rent is not forgiven for tenants with a hardship, but landlords must work with tenants on a rent repayment program that will allow tenants to stay housed during this emergency.
For tenant support and questions about how the eviction ordinance passed by the Board of Supervisors may apply to you, contact Legal Aid Sonoma County at (707) 542-1290 or California Rural Legal Assistance at (707) 528-9941″
https://socoemergency.org/emergency/novel-coronavirus/housing-and-renter-support/