Hours:
**** Per current state guidelines, our museum is currently closed to the public due to COVID-19 concerns. For more information, please visit the Sonoma County Website ****
Pursuant to Sonoma County order C19-15: Stay Well Sonoma County Order adopting and incorporating the State stay at home orders and guidance, as well as requiring compliance with County-specific individual and business mitigation measures, we have made some changes to help us all be safe during COVID-19.
Our hours are Monday-Friday 10am-4pm
Museum can be viewed by Appointment ONLY
Appointments must be made 24 hours in advance
Tickets must be purchased in advance and can be purchased here from the online Museum Store
Visits are restricted to one hour
 A symptoms check must be conducted by the public prior to entering to their by appointment visit to the museum
Please DO NOT enter this facility if you are exhibiting the following symptoms:
FEVER
COUGH
SHORTNESS OF BREATH
Prevent the Spread
6ft Practice social distancing (stay six feet apart)
Wear a face covering when leaving home for essential activities
Avoid touching your face, eyes, nose, and mouth
Cough into a cloth or tissue or, if not available, into your elbow
Do not shake hands or engage in any unnecessary contact
Admission:
Adults $7.00
Seniors (55 and over) $5.00
Children (ages 4-12) $5.00
Children (age 3 & under) Free
Students w/valid ID $5.00
Museums For All: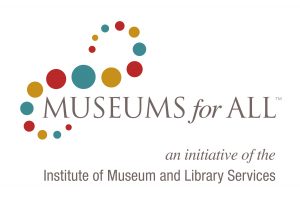 CIMCC is a proud member of the Museums For All Program. This program allows CIMCC to offer individuals and their families (up to four individuals) admission for FREE when you present an Electronics Benefits Transfer (EBT) card and a valid form of photo ID.
Please be aware that the museum is CLOSED on the following dates:
Presidents Day
Memorial Day
Independence Day
Labor Day
Veterans Day
Thanksgiving Day & Day after
Christmas Eve
Christmas Day
*** Please note that hours of operation and event schedules are subject to change, please call (707) 579-3004 if you are planning a visit.