Hours:
Monday – Friday 9AM-5PM
Open Weekends During Special Events
Saturdays during lectures and special events or by appointment
Admission:
Adults $7.00
Seniors (55 and over) $5.00
Children (ages 4-12) $5.00
Children (age 3 & under) Free
Students w/valid ID $5.00
Museums For All: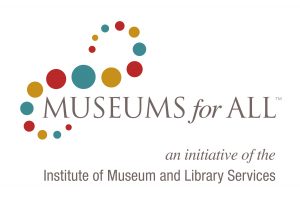 CIMCC is a proud member of the Museums For All Program. This program allows CIMCC to offer individuals and their families (up to four individuals) admission for FREE when you present an Electronics Benefits Transfer (EBT) card and a valid form of photo ID.
Please be aware that the museum is CLOSED on the following dates:
Presidents Day: Monday February 19, 2018
Memorial Day: Monday May 28, 2018
Independence Day: Wednesday July 4, 2018
Labor Day: Monday September 3, 2018
Veterans Day: Monday November 12, 2018
Thanksgiving Day & Day after: Thursday November 22-23, 2018
Christmas Eve: (closing at noon) Monday December 24, 2018
Christmas Day:  Tuesday December 25, 2018
*** Please note that hours of operation and event schedules are subject to change, please call (707) 579-3004 if you are planning a visit.