Native American Museum Studies Institute (NAMSI)
The Native American Museum Studies Institute helps to increase the capacity of tribal community members to repatriate, conserve, and revitalize tribal cultural heritage, foster tribal representations and partnerships, and educate tribal and non-tribal communities through museum development exhibits.
We are not holding NAMSI in 2023, but we are already planning for 2024 and expect to post more info here by February 2024.
(Right: 2018 Advanced NAMSI participants after touring parts of UC Berkeley's North American Collections.)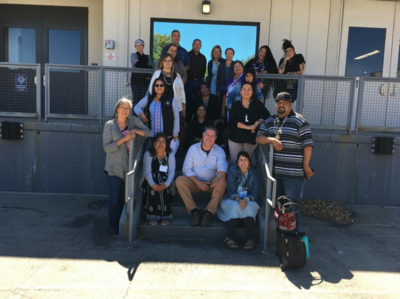 Native American Museum Studies Institute resumes!
The California Indian Museum and Cultural Center (CIMCC) and Joseph A. Myers Center for Research on Native American Issues (CRNAI) are pleased to announce that the Native American Museum Studies Institute (NAMSI) will resume in summer 2024 thanks to a grant from the Henry Luce Foundation, Indigenous Knowledge Initiative.
NAMSI helps to increase the capacity of Tribal leaders, museum professionals, and community members to repatriate, conserve, and revitalize Tribal cultural heritage, foster Tribal representations and partnerships, and educate Tribal and non-Tribal communities through museum and cultural organization development. NAMSI takes place primarily at UC Berkeley.
More information about NAMSI 2024, including the dates and application form, will be posted early in 2024 and mailed to the Myers Center email list (subscribe here if you would like to be added and are not already on the list).
UC Berkeley sits on the territory of Huichin, the ancestral and unceded land of the Chochenyo-speaking Ohlone people. This land was and continues to be of great importance to the Ohlone people. We recognize that every member of the Berkeley community has benefited and continues to benefit from the use and occupation of this land, since the institution's founding in 1868. Consistent with the university values of community and diversity, we have a responsibility to acknowledge and make visible the university's relationship to Native peoples. We affirm Indigenous sovereignty and our commitment to hold the university more accountable to the needs of American Indian and Indigenous peoples.
This land acknowledgement draws on the work of Native American Student Development, UC Berkeley, and the Muwekma Ohlone Tribe.
The Myers Center co-authored a report on how the University of California has benefitted from expropriated Native American land; the report also includes recommendations for redress and repair.
One way that the Myers Center affirms Ohlone sovereignty is by supporting 'oṭṭoy: A Collaboration Between Café Ohlone and the Hearst Museum at UC Berkeley.
A Professional Development
Opportunity for Tribal Museum Professionals
Sponsored By:
Joseph A. Myers Center for Research on Native American Issues, UC Berkeley
California Indian Museum and Cultural Center
Phoebe A. Hearst Museum of Anthropology, UC Berkeley
This brief video was made by 2017 NAMSI participant Sabine Talaugon (Santa Ynez Band of Chumash Indians) Founder and Consultant, Iwex Consulting; Volunteer, Guadalupe Cultural Arts and Education Center.
Topics in the intensive four-day workshop vary each year, but generally include:
• Collections Management and Cataloging
• Conservation/Collections Care
• Curation and Exhibit Design
• Managing and Sharing Digital Cultural Heritage Using an Open Source Platform (Mukurtu and TK Labels)
• Educational Programming for Children and Youth
• Repatriation and NAGPRA
• Museum Development, Management and Fundraising
• Cultural Sensitivity and the Movement to Decolonize Museums
Participants will also be invited to share a presentation about their work and tribal museum/cultural center.
Eligibility and Application
Priority will be given to those already working or volunteering with a tribe's collection in a museum or in another tribal cultural preservation project
Those planning a museum or other cultural preservation project may also apply and may be accepted depending upon availability
NOTE: Please check this website early in 2024 for information about next year's workshop.
Review of applications will be conducted on a rolling basis and applicants will be notifiied within three weeks of receiving their application. To ensure there is space available for you, we recommend you apply as soon as possible.
Expense
• The training is tuition free to the participants
• A non-refundable $50 fee covers lunch and materials.
• Participants will be responsible for their other meals, lodging, and travel expenses, Participants will also be responsible for making their own travel and hotel arrangements, but since space is limited, please do not make any non-refundable reservations until you are notified that you are accepted into the program. The Graduate Hotel(link is external) is the closest hotel to the workshop site (one block). The Bancroft Hotel (link is external)is also nearby (two blocks) and slightly less expensive but with smaller rooms.  Another option is the Berkeley City Club(link is external) Hotel, which is about four blocks from the Institute. A more economical option is the YMCA(link is external). It is a longer walk-about 30 minutes, but it is on a bus route that comes within one block of the Institute. Other options may be found here: https://visit.berkeley.edu/lodging-and-dining/(link is external). Many reasonably priced restaurants are within a short walk of campus.
• Partial travel stipends may be available in case of financial need.
Thank you to the San Manuel Band of Mission Indians for funding NAMSI 2012-2019. 
Thank you to our 2022 donors, including:
Meg Conkey, Louise Fortmann, Sandra Karinen, Deborah Lustig, Frank Neuhauser, Martín Sánchez-Jankowski, Stephen Small, Christine Smith, Christine Trost
Please support NAMSI with a donation to the Myers Center(link is external) (just email us that the donation is specifically for NAMSI)
Testimonials
"I found this experience so enriching! Working with such great resources was amazing; I think NAGPRA training was so important. Learning about other collections and skills (CSpace, TK labels, and Mukurtu) was all new information. I look forward to implementing that knowledge." – Past NAMSI participant
"Networking with peers; making long-term connections. Agenda items presented by Native people. Good exposure to and problem-solving of museum issues." – Past NAMSI participant's response to program evaluation question: What did you find to be the most valuable aspects of the institute? 
Media Coverage