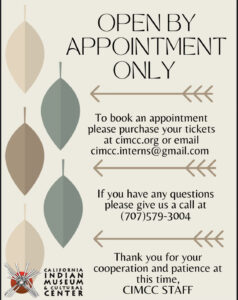 CIMCC is a self-guided museum and provides online resources for further in-class and in-gallery study via the Education Center portal and Native STEM Maker Program.
Explore experiences such as: the Ishi Exhibit, Precious Cargo exhibit, the California Indian Edward S.Curtis collection, and the Dugan Aguilar Collection.
Please allocate up to two hours of your day to visit the museum.
The California Indian Museum and Cultural Center
5250 Aero Drive
Santa Rosa, CA 95403
Phone: (707) 579-3004 | Fax:(707) 579-9019
Online booking option: Home | California Indian Museum & Cultural Center (cimccbooking.com)