The CIMCC Native STEM Maker Program demonstrates how Science, Technology, Engineering, and Mathematics are used in traditional lifeways, TEK application, and how they are incorporated in contemporary methods.  The Native STEM Maker Program includes adaptations of our traditional ecological knowledge presentation, digital media presentation, and guided tour of the museum (excludes mobile program visits).
The CIMCC STEM Maker Program is also available in a mobile format. This mobile program consists of two STEM stations and a brief lesson associated with each station.  The mobile program does not include the adaptations of the traditional ecological knowledge presentation or the digital media presentation.
Both programs accommodate groups of 30 students or less. Groups over 30 must be approved by CIMCC Staff and coordinated with the education coordinator.  Final headcount is due one week prior to your visit to allow ample time for material preparation.
Please keep in mind; materials provided for each visit are made available for the number of registrations indicated by the agency contact.
Book your visit today!
To schedule a  Native STEM Maker program for your group call in advance: 707-579-3004 or request it online: https://cimcc.org/exhibits/field-trip-request-form/
Native STEM Maker Program Fee:
$215.00 flat rate for one classroom, up to 30 students, approximate visit time 1 to 2 hours
Groups of 30+ additional admission fees will apply
Recommended material to read and view before and after your visit:
Native STEM Maker Program Curricula
Seven Essential Understandings Videos
Essential Understanding 1: Great Diversity Among Tribes
https://youtu.be/s1KX4Zk_0yM
Essential Understanding 2: Diversity Among Identity
https://youtu.be/cbDo1Se75kM
Essential Understanding 3: Native Traditional Beliefs
https://youtu.be/7M9ATIAyq6o
Essential Understanding 4: Policies that Affected Tribes
https://youtu.be/KajvSiY4v-o
Essential Understanding 5: Reservations
https://youtu.be/mPtxDFPQLrY
Essential Understanding 6: History from a California Indian Perspective
https://youtu.be/VFXRXsUs6P8
Essential Understanding 7: Tribes Have Sovereign Powers
https://youtu.be/KKvOn4629O0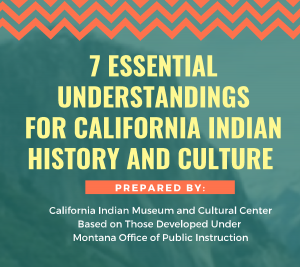 Download Historical Intelligence Flyer
The California Indian Museum and Cultural Center (CIMCC) is offering California Indian history and cultural sensitivity training to teachers, plus field trip opportunities for students to engage in the Native STEM Maker program. Participating teachers will receive a waiver of admission fees for a Native STEM Maker program field trip (for up to 30 students).
Training dates are July 26 and one date in August (TBD).

The CIMCC Native Makers Program was funded by a grant from the Institute of Museum and Library Services and The San Manuel Band of Mission Indians.