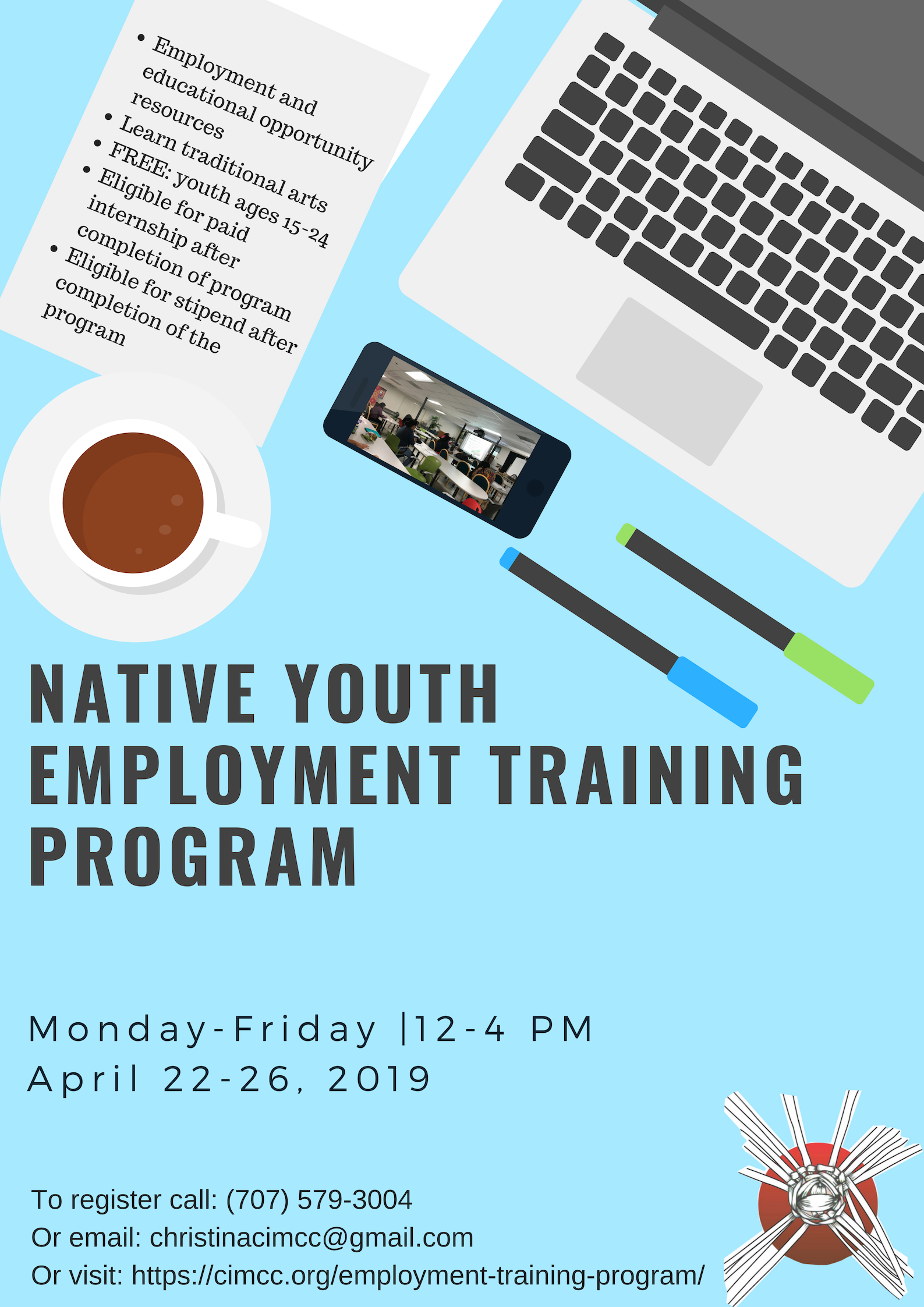 Employment Training Program

Share and enjoy!
---
Native Youth Employment Training Program
What: Serving job-seekers of Native American  heritage, this condensed one week program is designed to support youth ages 15-24 who are experiencing challenges entering or succeeding in the workforce.
Why: Because you want to work and be good at it. That takes great soft skills. Your job satisfaction, retention and promotion are all directly related to soft skills.
Here's why we think you'll thrive:
You'll be heard: Our program examines the unique issues experienced by Native Americans when they seek employment on or off the reservation;
You'll be seen: A Native employee's ability to keep his/her tribal culture and Indigenous identity intact throughout their working provides a strong foundation for success;
You'll explore: the expectations of managers from within both Non-Indian and Native
Californian cultures in a safe space with fellow explorers;
You'll connect: Meet Native community members and tribal professionals as you learn about resources specifically tailored to the needs of tribal youth;
You'll be ready: For cultural differences encountered in a wide variety of employment settings. Through internships you will gain on-the-job experience, including preparing and launching CIMCC's California Native gift store.
When: Monday-Friday 12pm-4pm & April 22– April 26, 2019
Where: California Indian Museum & Cultural Center, 5250 Aero Drive, Santa Rosa
How: Register below or call Christina Tlatilpa Inong at 707-579-3004
This Project is funded by The Administration for Native Americans (ANA) and the San Manuel Band of Mission Indians.
We are deeply grateful to ANA and the San Manuel Tribe for helping us sow the seeds of a culturally rich California heritage for the future.
[button color="orange" size="medium" link="https://cimcc.org/native-youth-employment-training-program-nyetp-registration-form/" ]Register[/button]