Below are resources that the community can connect to if they need bail assistance, information, and support.
Click on the links for additional information

From NCYL:
In Support of Youth Demonstrators:
What You Need to Know During Times of Protest
In these amazing times of unrest and uprising, NCYL wants to reaffirm our commitment to protecting the rights of youth and ensuring our laws and public systems support and educate all youth in an age-appropriate way.  We also value the potential that all youth have to lead movements and influence positive change, and support the right of young people to exercise their Constitutional right to peacefully gather, demonstrate, and protest racist and abusive police systems.
If you plan to participate in protests or demonstrations, it is important for you to prepare for the possibility of police encounters. First, know your rights regarding free speech, protests, and demonstrations, the difference between protected and unlawful behavior, and when your rights are being violated. Second, know your rights when interacting with police, including when you are stopped, arrested, or taken to the police station.
If you are arrested, do not talk to the police until you talk to your lawyer first. If you cannot afford an attorney, most communities in the U.S. have a Public Defender office that can appoint a lawyer to represent you for free. If your community does not have a Public Defender program, the National Lawyers' Guild (NLG) has lawyers in many cities who are willing to assist people who are arrested for political protest and demonstration (see more on that below).
We love you. Structural racism and police brutality are real and run deep in our society. As youth justice advocates, we understand the desire to speak and act out. We support your right to demonstrate and protest racial injustice, carefully, to ensure you are not harmed or arrested by the police.
Get to know your local National Lawyers' Guild
Some local NLG chapters operate Legal Support Hotlines. If you're planning an action with a high risk of arrest, contact your local NLG chapter ahead of time if you'd like to request Legal Observers or other forms of demonstration support. If you know someone who has been arrested at a political demonstration, you can call legal support hotlines in the following areas (write the number on your body ahead of future protests). If your region is not listed here, search online for your local NLG arrest hotline.
Austin, TX: (512) 817-4254
Buffalo, NY: (716) 332-4658
Central Pennsylvania: (717) 686-9989
Chicago, IL: (Update: 5/30/20: "If you or someone you know has been arrested and needs a lawyer to visit them in police custody, contact the Cook County Public Defender at 1-844-817-4448. If you or someone you know has been criminally charged and needs legal representation in court, call the NLG-Chicago at 773.309.1198.
Cleveland, OH: (216) 5050-NLG [654]
Detroit, MI: (313) 925-2626
Eugene, OR: (541) 687-9180, run by the Civil Liberties Defense Center
Georgia: (678) 902-JAIL
Houston, TX: (512) 975-5880
Idaho: (208) 991-4324
Los Angeles, CA: (310) 313-3700 /  arrests@nlg-la.org
Madison, WI: (608) 520-0654
Massachusetts: (617) 431-6626
Minnesota: (612) 444-2654
New Hampshire: (802) 417-2173
New Jersey: (908) 818-0002
New York City: (212) 679-6018
North Carolina: (919) 408-7569
Pittsburgh, PA: (412) 212-6753
Portland, OR: (503) 902-5340
Sacramento, CA: (916) 500-4654
San Francisco/Bay Area, CA: Demo Public Line – (415) 909-4NLG; Demo Jail Line – (415) 285-1011
St. Louis, MO: (314) 312-0836.
Seattle, WA: (206) 658-7963
Vermont: (802) 417-2173
Washington, DC: Operated by Law for Black Lives: (202) 888 1731
Pro Bono Legal Assistance
https://docs.google.com/spreadsheets/d/1w24baP-I-DcL6KOPuYkxuCeL_5hbkX6tryucgj6MaOw/edit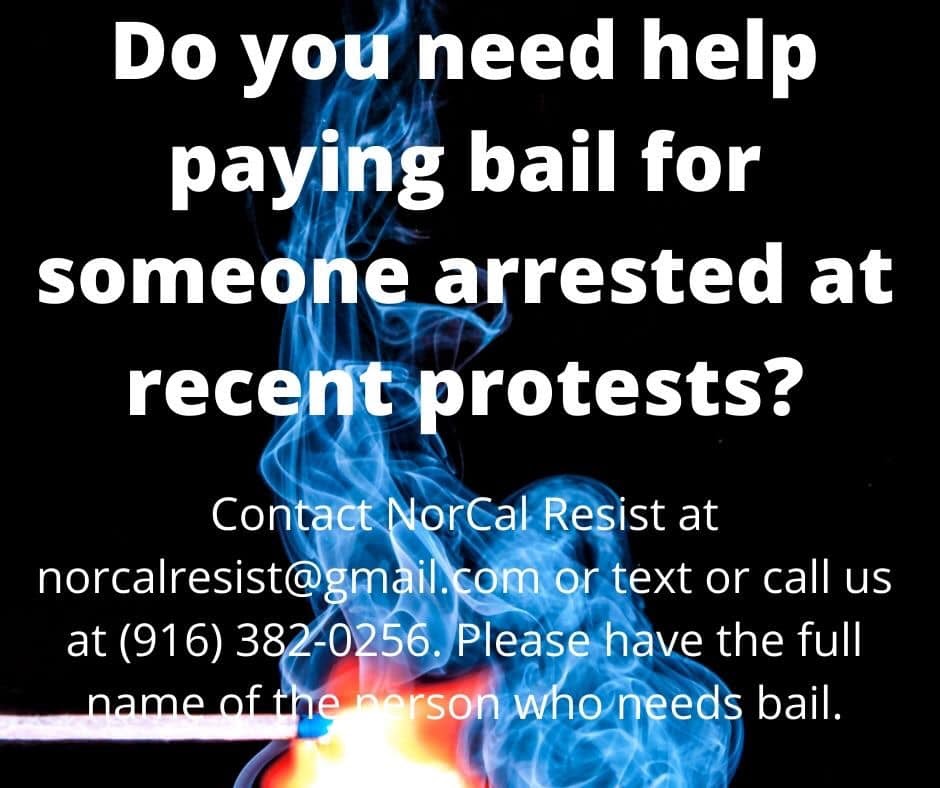 Know Your Rights
https://www.nlg.org/massdefenseprogram/
San Francisco/Bay Area, CA: Demo Public Line – (415) 909-4NLG (415-909-4654); Demo Jail Line – (415) 285-1011
https://www.nlg.org/wp-content/uploads/2016/04/kyrpamphlet-Eng-May-2015-FINAL.pdf
https://www.aclu.org/know-your-rights/protesters-rights/#i-was-stopped-by-the-police-while-protesting
https://antirepressionbayarea.com/wp-content/uploads/2015/01/KYR-Trifold-2-pages.pdf
https://antirepressionbayarea.com/wp-content/uploads/2013/09/Repress-This-5.5×8.5.pdf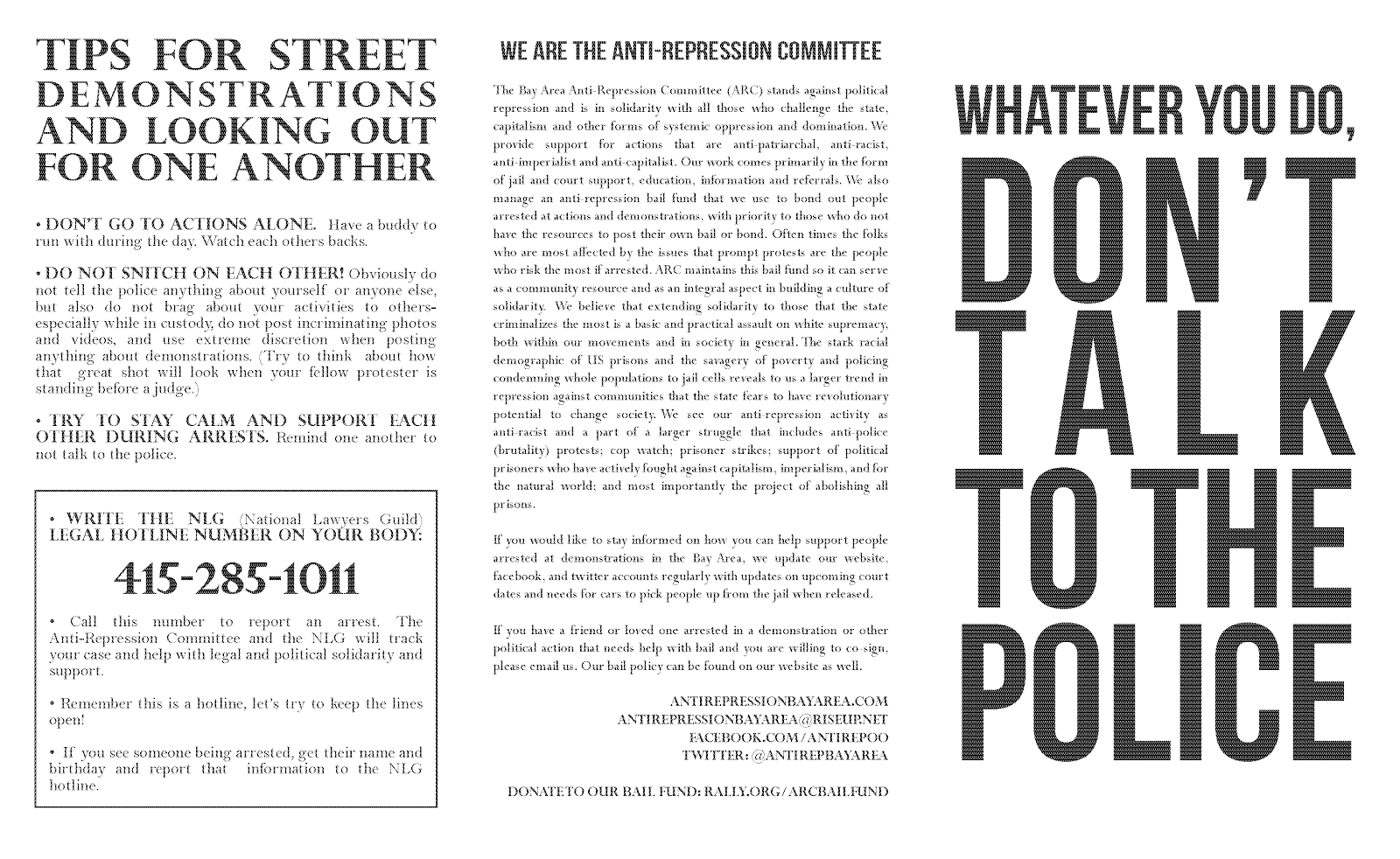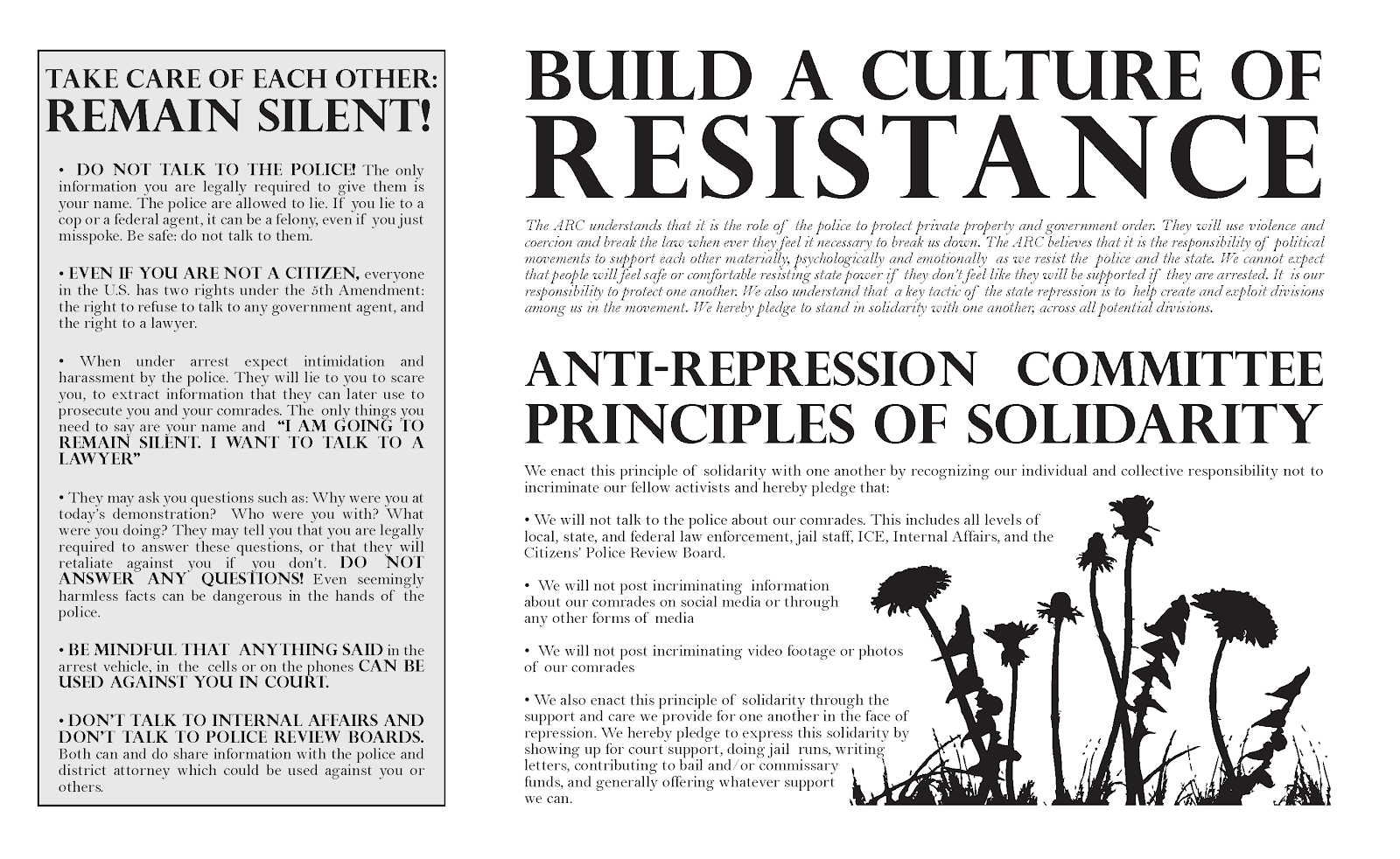 Safety
https://siliconvalleydsa.org/protest-safety/