Youth perspectives on commercial tobacco:
Tobacco Talk – Native American Youth
https://vimeo.com/178658536
"What is secondhand smoke?"
When a person smokes near you, you breathe secondhand smoke. Secondhand smoke is the combination of smoke from the burning end of the cigarette and the smoke breathed out by smokers. When you breath secondhand smoke, it is like you are smoking."
– The Health Consequences of Involuntary Exposure to Secondhand Smoke: A Report of the Surgeon General (2006) at https://www.hhs.gov/sites/default/files/secondhand-smoke-consumer.pdf
CDC Tips from Former Smokers – Nathan M.

"What is third hand smoke?"
A residual contamination from tobacco smoke that remains after cigarette is extinguished, usually cling to hair, skin, clothing, and furniture surfaces (https://aip.scitation.org/doi/10.1063/1.4939941)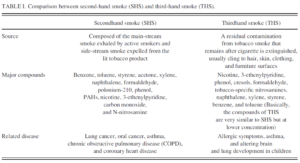 Resource cited: https://news.yale.edu/2020/03/04/third-hand-smoke-no-joke-can-convey-hazardous-chemicals