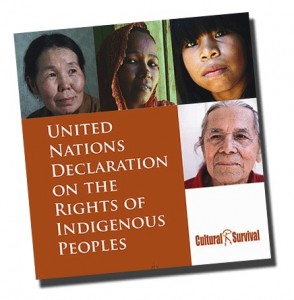 In September 2007, the "Declaration of the Rights of Indigenous People" was adopted by the United Nations General Assembly during its 62nd session at the UN Headquarters in New York City. The declaration offers an outline of basic rights and minimum standards with respect to the "survival, dignity, and well-being" of the estimated 370 million Indigenous Peoples of the world (Article 43). Calling for cultural, political, spiritual, and socioeconomic preservation and stability for these groups, the declaration represents a revolutionary system that would change the way Indigenous people are treated both domestically and internationally. Following more than two decades of debate, the declaration had been approved after 143 States voted in favor, 11 abstained, and Australia, Canada, New Zealand, and the United States were the four who voted against the declaration (UN).
Despite attempts of prevention by the United Nations, before the declaration's adoption, the World's Indigenous populations experienced discrimination, extreme poverty, and minimal access to the same goods and services available to non-indigenous communities (GA). Although the drafting and adoption of this declaration is a profound step toward universal human rights, it should not be seen as an automatic solution to the discrimination that indigenous communities experience. General Assembly President Sheikha Haya Rashed Al Khalifa said,
The importance of this document for indigenous peoples and, more broadly, for the human rights agenda, cannot be underestimated. By adopting the Declaration, we are also taking another major step forward towards the promotion and protection of human rights and fundamental freedoms for all. Even with this progress, indigenous peoples still face marginalization, extreme poverty and other human rights violations. They are often dragged into conflicts and land disputes that threaten their way of life and very survival; and suffer from a lack of access to health care and education (UN).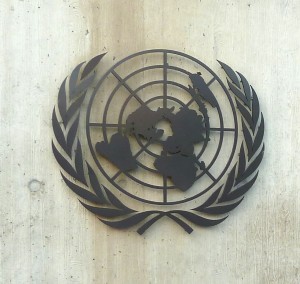 Countries who voted against the declaration in 2007 said they were hesitant to support it initially because of their "concerns over provisions on self-determination, land and resources rights" as well as "language giving indigenous peoples a right of veto over national legislation and State management of resources" (GA). Specifically with respect to the United States, their objections involved the declaration failing to include a precise definition of who Indigenous people are, its support of tribes re-claiming lands that they occupied hundreds of years ago, and potential conflict with U.S. law (Obama).  In response to these interpretations, Tauli Corpuz, Chair of the United Nations Permanent Forum on Indigenous Issues, said that she believe the correct way to illuminate the declaration was to read it in its entirety, and alongside existing international law (GA). Although the United States voted against the declaration in 2007, the U.S. government made a point to reassure the assembly that they would collectively continue its efforts to domestically promote Indigenous rights. The United States considered themselves in a government-to-government relationship with tribes, and recognized these tribes as self-governing political entities, informing the assembly that they would continue to provide indefinite opportunity for tribes to exercise their culture without discrimination (GA).
Three years later in 2010, President Barack Obama adopted the declaration, making the United States the last of 147 countries to accept the text. Upon accepting the declaration, Obama said,
The aspirations it [the declaration] affirms, including the respect for the institutions and rich cultures of Native peoples, are one we must always seek to fulfill . . . I want to be clear: what matters far more than words, what matters far more than any resolution or declaration, are actions to match those words… …That's the standard I expect my administration to be held to (Victory).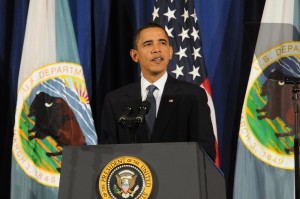 The Obama administration came to this conclusion after comprehensive review of the declaration, thorough dialogue with tribal governments and the collection of over 3,000 written opinions. Cultural Survival, an organization dedicated to Indigenous peoples' "struggle for human rights, sovereignty and autonomy," campaigned to allow every tribal president in the United States a copy of the declaration, background information on the drafting and adoption of the declaration, and a sample letter to submit to President Obama, ultimately contributing to the United States' decision to adopt the text (Victory). One discouraging aspect, says Cultural Survival, concerning Article 32.2 of the declaration which requires States to "obtain their free and informed consent prior to the approval of any project affecting their lands or territories and other resources…," was that while the Obama administration understands the importance of a meaningful discourse with tribal leaders before actions affecting territory are implemented, they did not see it fit to obtain consent prior to those actions. However, this adoption as a whole does offer a firm foundation and the United States adoption makes the declaration a "consensus document" of the UN, giving it a significant amount of credibility in the progression toward comprehensive international recognition of Indigenous peoples' basic rights (Victory).
At the United Nations most recent meeting on the 15th of May 2012, the Permanent Forum on Indigenous Issues reported conditions for Indigenous peoples to be unacceptable, requiring immediate attention and action from governments across the globe. Forum expert Dalee Sambo Dorough from the United States stressed that this attention should not be limited to the UN Headquarters, but rather be implemented "on the ground" within the regions and territories of these indigenous communities. Dorough emphasized that States need to take genuine action to work with their Indigenous communities to bring the declaration to fruition (Despite).
Reaching the afternoon, the meeting's attention shifted toward the legacies left behind by the "Doctrine of Discovery," a document used to seize indigenous lands and promote colonization, and its continued use in justifying the ignorance of the present needs of indigenous groups. However, particularly within the years of the adoption of the declaration, the United Nations system has strongly rejected these doctrines and social attitudes that are keeping discriminatory ideals alive. The meeting ended on an inspirational note, James Anaya, the Special Rapporteur on the rights of indigenous peoples, offered a statement,
Our challenge is to enter a new era, one in which the lingering effects of the Doctrine of Discovery do not continue to be felt and indigenous peoples thrive and are valued in the countries they live in…  [while much remained to be done in that regard] looking around the room today [and considering what had already been achieved, he could not help but be hopeful].
Anaya added that if the declaration is to have meaningful effect, change is needed within State and corporate policies. This would contribute to further mutual understanding between indigenous communities and their States' governments, without which indigenous peoples' rights will continue to be ignored, keeping their communities susceptible to abuse of their rights (Despite).
The development and adoption of the UN Declaration of the Rights of Indigenous People is a significantly positive step toward total acceptance of universal human rights. The full text is available for free online, and is presently legal and in effect within the United States today. It is imperative that all who are affected by the declaration become well versed in its text, and realize the full potential for beauty and peace among States and their inhabitants.
~By Kali Faulwetter
"Despite Declaration, Reality for Indigenous Peoples One of Unacceptable Conditions That Requires Urgent Action by Governments across the Globe, Permanent Forum Told." UN News Center. UN, 15 May 2012. Web. 29 June 2012. <http://www.un.org/News/Press/docs/2012/hr5093.doc.htm>.
General Assembly Adopts Declaration on Rights of Indigenous Peoples; "Major Step Forward' Towards Human Rights for All, Says President." UN News Center. UN, 13 Sept. 2007. Web. 27 June 2012. <http://www.un.org/News/Press/docs/2007/ga10612.doc.htm>.
"Obama Adopts U.N. Manifesto on Rights of Indigenous Peoples." The Washington Times. N.p., n.d. Web. 29 June 2012. <http://www.washingtontimes.com/news/2010/dec/16/obama-adopts-un-manifesto-on-rights-of-indigenous-/>.
"UN Adopts Declaration on Rights of Indigenous Peoples." UN News Center. UN, 13 Sept. 2007. Web. 29 June 2012. <http://www.un.org/apps/news/story.asp?NewsID=23794>.
United Nations. "UN Declaration of the Rights of Indigenous People." United Nations, 2007. Web. 29 June 2012. <http://www.un.org/esa/socdev/unpfii/documents/DRIPS_en.pdf>.
"Victory!: U.S. Endorses UN Declaration on the Rights of Indigenous Peoples | Cultural Survival." Victory!: U.S. Endorses UN Declaration on the Rights of Indigenous Peoples | Cultural Survival. N.p., n.d. Web. 29 June 2012. <http://www.culturalsurvival.org/news/united-states/victory-us-endorses-un-declaration-rights-indigenous-peoples>.