"He who controls the present, controls the past. 

He who controls the past, controls the future."

– George Orwell, 1984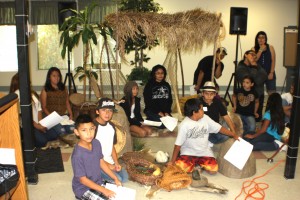 The eighteen Pomo youth who attended the Tribal Youth Ambassadors Camp the week of June 25th learned through story and example what it means to serve as cultural ambassadors who represent their people.
Andrew Galvan and Vincent Medina of the Ohlone Tribe told them that it is everyone's responsibility to be educated and to educate others.  Learn about the past, correct misconceptions, and use modern technology to share ideas, culture, and language.
Andy is the curator of Mission Dolores in San Francisco. He stressed that it is so important to have a Native voice at the Missions because "we are the descendants of those who lived, worked, and died there." California Missions museums today devote minimal space for information about Indian culture, presence, and history.  What they do say is frequently erroneous, and that needs to be challenged.  For example, when giving tours, Andy tries to set the record straight:  The padres or the Spanish did not build the Missions, the Indians did, under the padres' directions.  Tribal names were replaced by Spanish names because the Spaniards claimed the Indians as the property of the mission at which they lived.  For example, Indians who lived at Mission San Juan Capistrano were called Juanenos; those from Mission Santa Barbara were Barbarenos, and so on.  The People were not sitting on the shores of San Francisco Bay, waiting to be "discovered" by the missionaries and soldiers.  This was and is their homeland, and has been for over 12,000 years.
Stories shared by Elders are vital to understanding who we are, Andy told the children.  He shared an example from his childhood.  His grandmother knew stories past on to her by her elders.  Andy's father had a difficult time writing down these stories from his mother because she'd break into giggles whenever he took out paper to try to write her stories down.  But one time, she'd gathered her grandchildren to hear a story her father had shared with her.  Andy's father hid in the kitchen nearby, eavesdropping, and wrote her words down.  Andy had been prompted by his father to ask her about any rituals or ceremonies that she knew.  She told him about covering bodies with a paste made of red ochre, cinnabar, and lime as part of the burial ritual.  Two years later in 1970, while CalTrans was excavating for a new freeway in the South Bay, workers uncovered a 2,000-year-old Ohlone cemetery.  Andy accompanied his father to this site.  There, Andy saw skeletal remains and red stains on the earth surrounding them!  He was stunned and his grandmother's words came back to him.  Andy's father laughed at the look on his son's face. "And you thought that Grandma was only telling you stories.  She was telling it like it was!"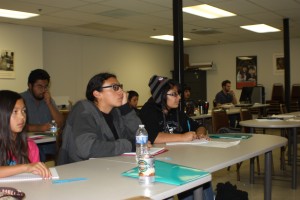 Vincent Medina uses modern technology to spread the word that the Ohlone are still here in the Bay Area. He pointed out that they adapted to survive, but never gave up their culture and identity.  "We are here today because of the bravery, strength, and courage of our ancestors.  Indian people are not vestiges of the past; we are have survived because we've adapted to the present."    In order to continue to adapt, young people must be educated about their culture and learn how to positively communicate their knowledge with non-Indians:  combat misperceptions with education.  People need to talk about how the ancestors lived.  "People need to speak about the languages, about traditions; about the fact that we are still here because of how we adapted.  Work within the system, as a descendant of the ancestors – to make things right.  Our story is not over – it is ongoing."
Vincent uses his Ohlone language whenever possible – for text messages, self-reflection, and in conversation.  He stressed the point that "you don't have t be fluent in the language to speak it.  Use the words you know to keep it alive.  But as you learn the language, and you want to speak it, be careful about who you share it with.  It is precious.  It is ours.  It is special."
Because we live in a technology-based world today, Vincent connected with his young audience by sharing his personal blog site, "Being Ohlone in the 21st Century" with them. On this website he posts artwork, photos, and philosophical reflections, and invites others' stories and comments.  The site is a space to share ideas with other Indians, and anyone else who wishes to participate in this worldwide cyber-conversation.  It is a relevant example of cultural adaptation – one that can allow people, young and old, to educate one another, to share stories, and to affirm their cultural identities.
Andy and Vincent advised their attentive young audience that being Indian today means taking advantage of the opportunities that the present offers.  Learn from the elders and use the technology available to them.  They must know and share the truth of their past, honoring and remembering it, so that they can truly control their future.  Just like their ancestors, the key to the future is remembering who you are, and adapt to the present without compromising cultural identity.
This Tribal Ambassadors Camp was funded in part by the Native Arts and Cultures Foundation, which is also funding the Tribal Ambassadors play on October 24th at Wells Fargo Center for the Arts.  Casting and rehearsals for the play began during the course of this camp under the direction of Jacque Nunez.  It promises to be an inspiring and moving performance!  See page 17 for more details.
~By Laurie Fadave