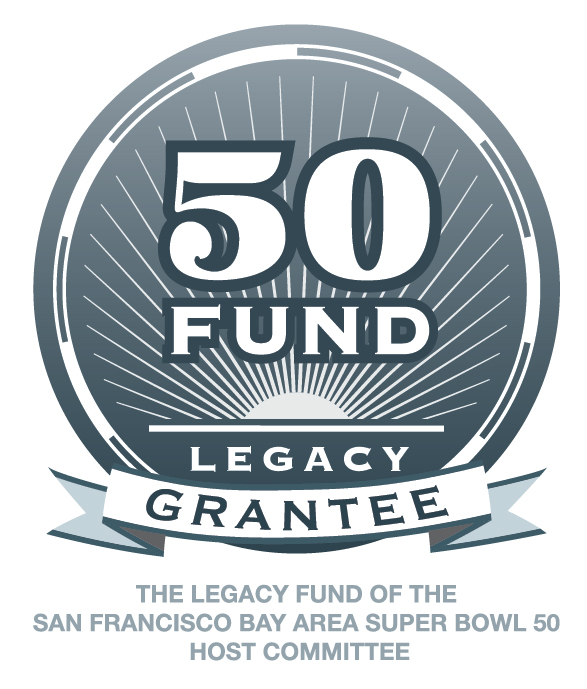 We are excited to share today that we are a PLAY 60, Play On grant winner! PLAY 60, Play On, an initiative presented by 50 Fund and the NFL Foundation, is putting kids and families first in the San Francisco Bay Area by transforming everyday spaces into places for play. Today, 50 Fund and the NFL Foundation have awarded $750,000 to 21 Bay Area cities, nonprofit organizations, businesses and individuals.
Guided by KaBOOM!, grantees will deliver "play everywhere" – creative and innovative neighborhood projects that will make balanced and active play more easily accessible so kids can thrive. The number of kids positively impacted will continue to grow in the months leading up to Super Bowl 50 as playful transformations occur at grocery stores, in empty lots, on sidewalks, crosswalks and closed streets all over the Bay Area.
This grant will help us fund the Indigenous Play for Active Lives project (IPAL). IPAL, an interactive and portable sidewalk display, will engage kids and families in brief and fun tribal and non-tribal exercises and activities (i.e. jumping jacks, hip hop dancing, hoop and pole, active storytelling) while teaching them to sing, count and speak in local Native languages. IPAL's purpose is to promote healthy kids and families by fostering active play and awareness and knowledge of local Native cultures and the importance of physical activity and cultural connectivity to health. The display is being developed by Native American youth for other youth in collaboration with CIMCC staff and our technical advisors. The Children's Museum of Sonoma County (CMOSC) will host the display on the sidewalk outside of its facility for 3 months beginning on January 29, 2016. Afterwards, it will travel to other sites throughout the Greater Bay Area.
A full update of projects can be found on the initiative's website—play60playon.org—as well as on the 50 Fund's interactive map at impact.50fund.org, which showcases of all of the grants it has made to date.