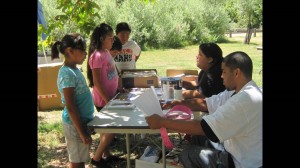 Do you want to make a difference in your Native community? Becoming a social worker may be a great option and opportunity for you to pursue.  Social workers are professionals who work in over 500 areas of expertise.  These areas of expertise include: welfare services, mental health counseling, alcohol and chemical dependency counseling, social justice, education, poverty, and youth and elderly services.   Social workers are community builders and advocate for the well being of children and families. They provide people with hope and encourage them to proceed with their first steps towards a new life. You can do a lot with a social work degree.  You will receive a multi-faceted approach training to be able to assess, contemplate and solve issues. Social workers may work in a broad range of settings such as in school, hospital, community organization, and tribal agencies.
American Indians and other indigenous peoples in the United States are subject to different forms of discrimination not limited to institutional, structural, social, and economical.  Due to colonialism and intergenerational traumas, American Indians often live in troubled Indian communities because of the social conditions and disparities that plague their daily lives.  For example, there is an overrepresentation of American Indian/Alaskan Native children placed in foster care; a higher percentage unemployed, living in poverty, alcohol/drug abuse, gang involvement, and suicide, to name a few.  A viable solution to these problems is getting an education and pursuing a social work degree.  As the old adage goes, "Knowledge is power." Education can provide strength, and a gateway to American Indian communities to deal with problems created by the reservation system such as extreme poverty, hopelessness, dependency, and alcohol and drug addictions that too often mark their communities today.  Particularly, obtaining a social work degree provides American Indians with a way to contemplate the root causes and deliberate possible solutions to make improvements and changes in their Native community.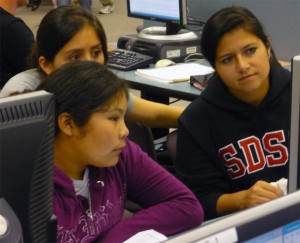 For these reasons, the American Indian Recruitment (AIR) Program was initiated in 1981 at UC Berkeley.   In 1995, CalSWEC adopted the program as part of the Title IV-E Program, and from 2000 to 2011, it was operated out of CSU Stanislaus.  The program's main objectives are to recruit American Indian students into the Title IV-E Stipend Program, build collaborative working relationships with California Tribal agencies, and strengthen the Social Welfare curriculum to in order to train social workers to better understand American Indian communities, tribes and Rancherias throughout the state of California.  In the summer of 2011, the AIR program was expanded and restructured in an effort to strategically increase statewide outreach and development efforts.  It now operates from three distinct locations for the state's Northern, Central, and Southern regions.
The American Indian Recruitment (AIR) Program supports the Title IV-E schools of social work in CalSWEC's consortium. Its goal is to increase the number of American Indian social workers throughout the state and fill a critical gap in the social work workforce. Eligible American Indian students can receive financial support as full- or part-time social work students with an emphasis on children and families in the Title IV-E Stipend Program.
The AIR Program has three designated project coordinators at universities in California's Northern, Central, and Southern regions who work in collaboration with the Title IV-E project coordinators. Please contact your regional AIR project coordinator for more information:
Humboldt State University

Project Coordinator: Michelle Rainer
Email: mr59@humboldt.edu

California State University, Stanislaus

Project Coordinator: Thomas Phillips
Email: tphillips@csustan.edu

San Diego State University

Project Coordinator: Christy Garcia
Email: chgarcia@projects.sdsu.edu
How You Can Become a Social Worker
Attend a four-year university that offers Bachelors in social work (it may also be referred to as social welfare or human services).  You may also attend a community college to transfer to a four-year university. Today, most employers seek individuals with a Masters in Social Work.  California has 21 schools in social work to choose from.
Worried about paying for your social work degree?  California Social Work Education Center provides financial support for students interested in pursuing a Bachelors or Masters in Social Work through the Title IV-E Stipend Program.  For more information, please visit this website: www.calswec.berkeley.edu or contact one of the American Indian Recruitment Coordinators.
To learn more about social work, schools of social work, and funding opportunities contact an American Indian Recruitment Coordinator in California (see above).
Visit the Council on Social Work Education website at www.cswe.org
Visit the NICWA website at www.nicwa.org to learn more about the issues facing Native children, families, and communities.
Take action now in serving the needs of Native children and families. Visit http://www.nijc.org/NACTF.html if you are interested in participating in an IT Needs Assessment offered by the National Indian Justice Center (NIJC) to determine the telecommunications/information technology needs of California tribes. The IT Needs Assessment asks about the current level of access to internet based resources for tribal service providers, technical information about the age and capacity of your existing computer system, and other technology specific questions. In turn this needs assessment is to improve the responses to child abuse and neglect within communities.  This needs assessment is being provided as a part of a grant from the Native American Children Training Forum (NACTF).  Thank you, your participation is greatly appreciated!
~By Christy Garcia