Event is hosted by Sonoma Solidarity with Standing Rock & Christ Church United Methodist as a benefit for CIMCC.
Join us as CIMCC Executive Director, Nicole Lim, deconstructs the mainstream narrative about the history California and examines this narrative from a decolonized lens.
Doors open at 6:30pm
Suggested Donation $10 – $20; all donations to CIMCC; no one turned away for lack of funds.
More information can be found here at Sonoma Solidarity's website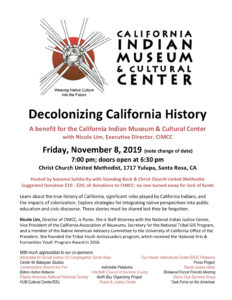 To download the flyer, click here: Decolonizing CA Flyer Nov 8 final