The Cultural Guardian Award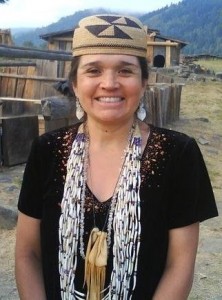 For the Cultural Guardian Award, the CIMCC board reviewed the activities of individuals who demonstrate a powerful commitment to protecting, preserving, and enhancing the cultural integrity of Indian tribes of California. The committee chose the recipient based on a demonstrated dedication to tribal cultural enhancement and preservation activities.  Individuals who promoted an intergenerational connection to culture and tradition were among the top choices.
Melodie George-Moore is a Hoopa, Yurok, and Karuk teacher and medicine woman. She teaches English and History in Hoopa public schools and she is a passionate educator of Hoopa language and culture in classes attended by both Native and non-Native students. Her leadership and dedication both in and out of the classroom has made her a sought out mentor for people of all ages and a collaborator on language and cultural revitalization projects. Melodie has attended regional and national conferences for language preservation and worked closely with graduate students in Linguistics at U.C. Berkeley. Melodie has championed the revitalization of Women' Coming of Age Ceremonies for the Hoopa, Wiyot, and Winnemum Wintu peoples. As a medicine woman, Melodie conducted two of the first Women's Coming of Age Ceremonies in 25 years for her eldest daughters. Melodie expresses that what she loves most is teaching and working with youth on the reservation, signaling a bright and promising future for many generations on the Hoopa Reservation and the neighboring peoples who she has helped.
The Leadership in Action Award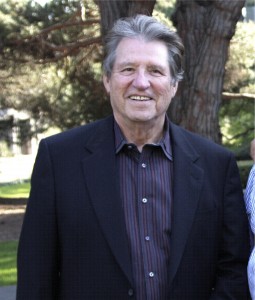 In selecting the recipient of the Leadership in Action Award, the CIMCC Board reviewed the policies and activities of California Indian leaders who have demonstrated a strong commitment, dedication, and devotion to improving tribal governance and the welfare of tribal communities.  In selecting Larry Myers the committee recognizes his genuine appreciation for the enhancement of tribal sovereignty, culture, families, and communities.
Larry Myers was born and raised on the Pinoleville Indian Rancheria outside of Ukiah California. He received his Bachelor of Arts degree in Sociology from San Jose State College. He received his Master's degree in Management from the University of Utah. Mr. Myers served in the US Army from 1967 to 1970. Governor Wilson appointed Mr. Myers to the California Gold Rush Sesquicentennial Commission to ensure that Native Americans were included in the process and that the history of the Gold Rush was truthfully told. He was also a member of the Department of Forestry's Native American Advisory Council. Mr. Myers took a leading role in facilitating the unification of Ishi's remains by providing testimony to the legislature and assisting the Attorney General's office. Mr. Myers was a member of the Commemorative Seal Advisory Committee, which was successful in having the Native American commemorative seal placed on the west steps of the State Capital. This seal is in honor of California Indians and memorializes their contribution to California. He also assisted in the development of the Federal Oversight Hearing on Native American Legislation. Mr. Myers is a member of the Committee on Native American Graves Protection and Repatriation Act (NAGPRA) for implementation by the California Department of Parks and Recreation. Mr. Myers has assisted and provided training to State and Federal agencies as well as Native Americans on NAGPRA. Mr. Myers worked with state agencies, educational institutions, public museums, and tribal governments, to facilitate implementation of the Federal Repatriation Act. Mr. Myers was recently appointed to the Advisory Council for Curricular Development for the State Library, and Task Force member for the California Indian Heritage Center. He is also working with the Legislature and tribal groups to develop legislation that will protect sacred sites. In 2003 the Society of California Archaeology selected Mr. Myers for the California Indian Heritage Award.
The Emerging Leader Award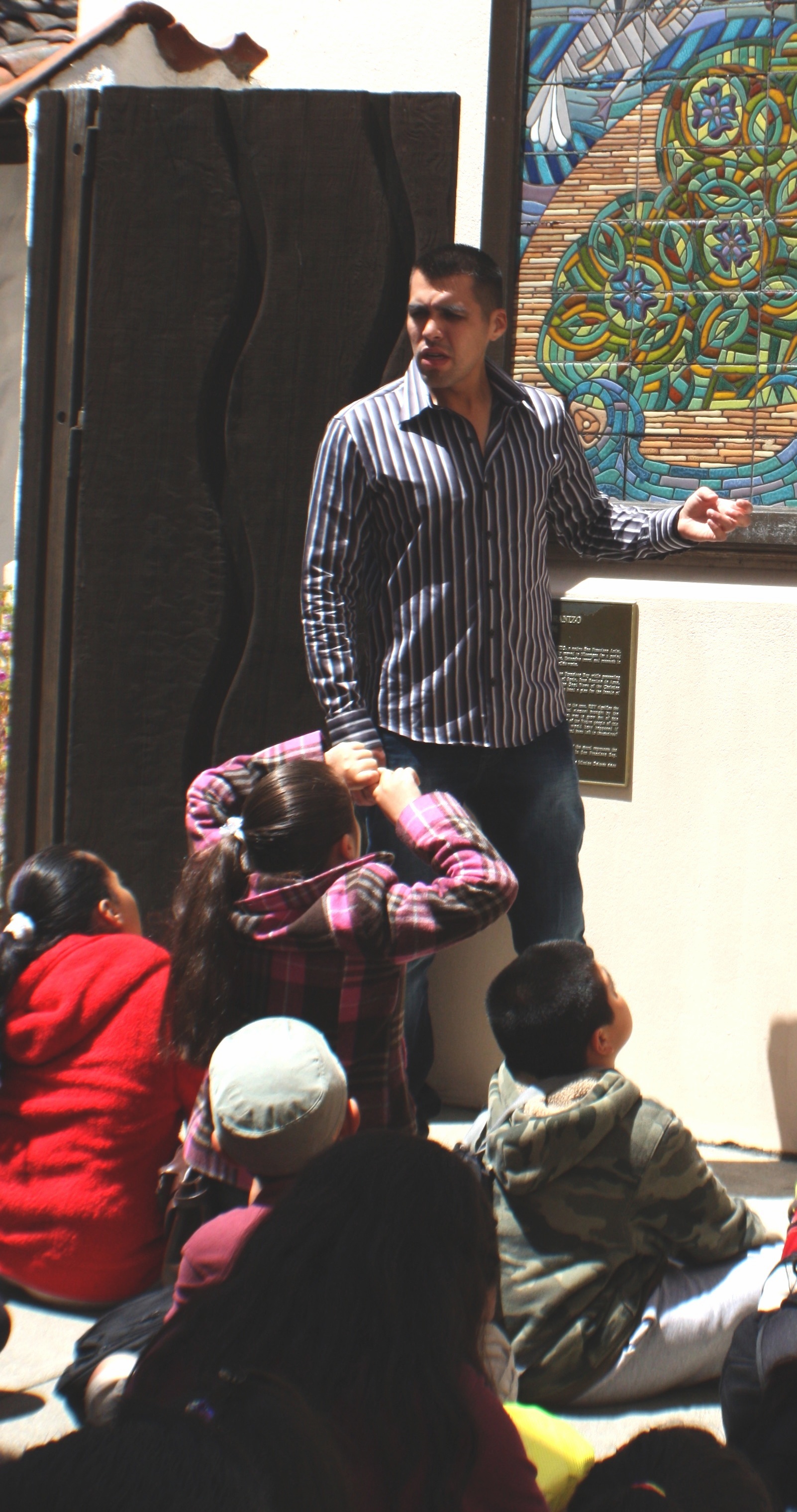 In choosing an individual for the Emerging Leader Award, the CIMCC Board reviewed nominations of young people who have demonstrated the ability to reach leadership potential through competitive achievement.  In selecting a recipient the committee looked to those that have demonstrated academic, athletic, and/or community service excellence and had a proven commitment to using their skills to improve the well being of California Tribal communities.
Vincent Medina Jr., Chochenyo Ohlone, is the author of the lively multi-media blog "Being Ohlone in the 21st Century" and is involved in the revitalization of the Chochenyo language. A native language spoken traditionally on the eastern shores of the San Francisco Bay that many linguists had labeled "extinct," Vincent has begun to revitalize the Chochenyo language with the help of his elders, scholarship, and technology. Vincent is part of a larger movement by the Ohlone people to revitalize and speak traditional languages and to bring these languages into modern times. Vincent is proud of his Ohlone identity and works to educate others about Ohlone culture and dispel stereotypes about natives. In addressing a group of tribal youth ambassadors he gave them the following advice regarding stereotypes and misinformation: "When you encounter people that don't think the way you do, which you are going to experience more times than you would like to in life, you combat their opinions with education." Vincent writes about his experiences as an Ohlone trying to preserve his traditional culture in modern times on his blog, giving a first person perspective on contemporary issues facing natives and sharing Ohlone history and updates on the cultural events he attends.
Vincent is also Assistant Curator of Mission Dolores in San Francisco, where he leads popular tours for 4th graders, teachers, and other visitors. Vincent has revolutionized the way tours are given from focusing on the Spanish Padres and/or Father Serra to creating a tour that is primarily focused on Ohlone culture, resistance, and survival. Motivated by the mantra "the truth will set us free," Vincent is currently the most requested tour guide at the Mission, and strives to tell a story that California Indian children could feel proud of. He is currently in the process of completing a memorial project for the more than 6,000 Indians buried at Mission Dolores. The memorial will be projected on the mission walls and honor their tribal names. Vincent is currently in college, focusing on getting an education to improve his community. He lives in San Lorenzo, which is part of his Jalquin Ohlone ancestral homeland.