Join us for our annual holiday celebration! We will have local Native artists showcasing their works of art and beadwork. The Museum Store will be open and having it's fabulous holiday sale. So come on down and do some holiday shopping for the special people in your life or get yourself a little something special.
The event is free and open to the public.
For more information (or if you'd like to showcase your work), please reach out to Laura Mendoza via email at lauracimcc@gmail.com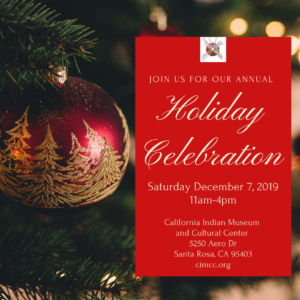 Please note, we adhere to the Indian Arts and Crafts Act.
An overview:
Indian Arts and Crafts Law of 1990: requires work labeled as Indian arts and crafts to be made by Native American vendors.
It is illegal to offer or display for sale, or sell any art or craft product that falsely suggests it is Indian produced, an Indian product, or the product of a particular Indian, tribe, or Indian arts and crafts organization (Indian Arts and Crafts Board of the Interior).